Ready for FUN?!
Make new friends, learn a bit, open your senses to some amazing flavors and have fun. Bring your Fun and We will bring our Fun too!
Venues: (Mystery Selections) Friends Brew Pub/
Dekota Pub/Brandt's Creek Pub/Okay Corral &
Down Town Kelowna.
Weekly Event: Friday & Saturday
Time: 6 pm pick up – 2 am drop off.
Pick you up at Designated Kelowna areas: Let us do
the driving a safe ride and a Fun night
Cost $95.00 Per Person
Ask us about Special group rates.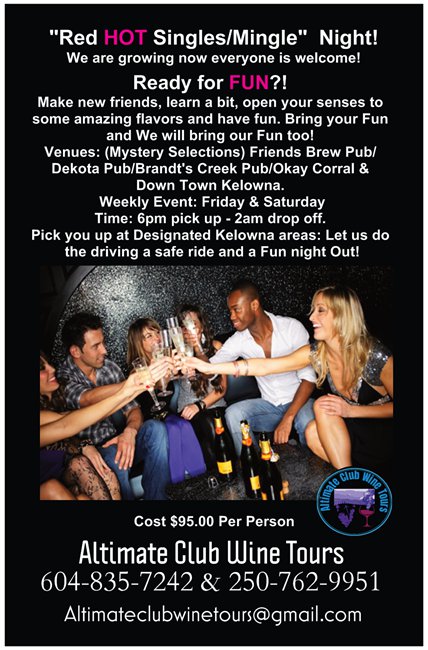 250-795-9951 is not available the new number is 236-795-9463
Depending on your area these are, 
Other Nightlife Places We Go To
KELOWNA & AREA LOCATIONS
Blue Gator Bar & Grill
441 Lawrence Avenue (250) 860-1529
Cake Nightclub 
220 Lawrence Avenue (250) 861-3658
Dakoda's Sport's Bar & Grill
1574 Harvey Avenue (250) 860-9500
Doc Willoughby's 
353 Bernard Avenue (250) 868-8288
Fernando's Pub
279 Bernard Avenue (778) 478-0330
Friend's Pub
2210 Boucherie Road (250) 769-4757
Level Nightclub
275 Leon Avenue (250) 861-5851
Liquid Zoo Show Lounge
274 Lawrence Avenue (778) 484-5882
OK Corral & Cabaret 
1978 Kirschner Road (250) 763-5554
Packinghouse Neighborhood Pub
663 Finns Road (250) 765-0667
Riley's Pub
1751 Ross Road (250) 769-3656
Rose's Waterfront Pub
1352 Water Street (250) 860-1141
Sapphire Nite Club
238 Leon Avenue (250) 860-0800
The Grateful Fed Pub & Restaurant 
509 Bernard Avenue (250) 862-8621
The Habitat
248 Leon (250) 763-9674
The Train Station Pub
1177 Ellis Street (778) 484-5558
Wisky-Jack's Pub
2442 Drought Road (250) 768-3121
Woody's Pub
9882 Hwy 97 N Lk Country (250) 766-2310